Klinger Piston Valves
Klinger: A Success Story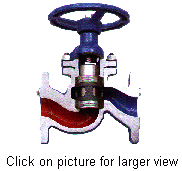 In 1893, Richard Klinger founded the Klinger group and opened its first manufacturing plant near Vienna, Austria. Klinger's early inventions included the reflex level gauge and compressed sheet gasket materials.
In 1922, Richard Klinger invented the piston valve by replacing the disk and seat of a conventional globe valve with a cylindrical piston and two resilient, replaceable sealing rings. Constant research and development have resulted in sealing rings that provide the piston valve with an extraordinary ability to seal line pressure and prevent leakage to the atmosphere.
Independent testing laboratories have subjected Klinger piston valves to API fire tests and Helium leak tests. The Klinger piston valve has out-performed other generic valve types in these tests; and these results have been consistently confirmed by extraordinary performance in customer installations.
Over 60 millions Klinger piston valves are in service worldwide.