Butterfly Valve Descriptions
Model 22 Butterfly Valves
Long neck, wafer body, 2- through 12-inch sizes
Recommended service and special features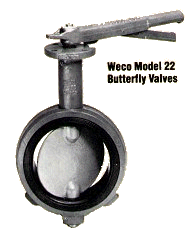 General on/off and throttling services from 1mm absolute vacuum to 175 psi (12 bar) cold working pressure at temperatures from -40º F to 300º F, depending on seat material.
All Model 22 valves mount between 125 lb to 150 lb ANSI flanges.
Neck length allows for 3-inches pipe insulation.
Contact Thraco for details.