Weco Butterfly Valves
Model 12 Description
Short neck, wafer-style body; 2 through 16-inch sizes
Recommended Service and Special Features: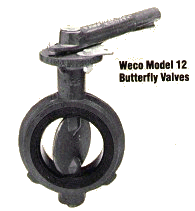 General on/off and throttling services from 1mm absolute vacuum to 175 psi (12 bar) cold working pressure at temperatures from -40º to 300º F, depending on seat material.
14- to 16 inch sizes limited to 150 psi (10 bar) cold working pressure.
All Model 12 valves are self-centering and mount between 125 lb or 150 lb ANSI flanges.
Model 12 bodies can be notched to fit between special flanges. Special materials are available to meet 285 PSIG--consult factory for details.
Contact Thraco for details.